It may not be "no more fish tacos" but thanks to a photo posted by Maestro Harrell (Malik) on Instagram it's possible to bring you some new details for a season three episode of Suburgatory.
Maestro posted the following image on Instagram with the caption, "Here we go! #suburgatory".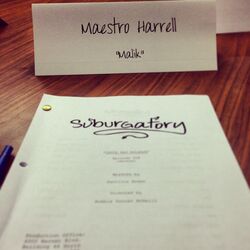 As you can see, all of the details are a bit blurry but we all know what to do with that... ENHANCE!
It's still a bit messy but now it's possible to make out that the episode is called "CATCH AND RELEASE" and it's written by Patricia Breen (Don't Call Me Shirley, The Nutcracker, The Body, Black Thai, T-Ball & Sympathy, Brown Trembler).
The other details aren't readily decipherable, regardless here's a couple of notes:
It appears that it could be episode four ('Episode 304') which would contradict the episode list in IMDB.
Below the episode number is what I assume is the production code.
Below Patricia Breen it looks like it lists the director though it looks like it may be a new director to the series as the name doesn't readily match up to one of the existing directors (and one that doesn't readily match up to the directors listed in Wikipedia's 'American television directors' category).
The bottom left corner of the page lists the details for the Production Office.
Ad blocker interference detected!
Wikia is a free-to-use site that makes money from advertising. We have a modified experience for viewers using ad blockers

Wikia is not accessible if you've made further modifications. Remove the custom ad blocker rule(s) and the page will load as expected.