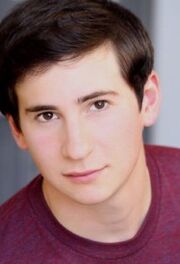 Sam Lerner
is an American actor. He plays
Evan
on
Suburgatory
.
Biography
Edit
Sam Lerner got his start in show business at the age of 9 after he happened to strike up a conversation with actress/director/writer Ellen Gerstein and actress Dot Jones at a New Year's Eve party he was attending with his family. Thinking Sam a natural for the business, Gerstein offered to introduce Sam to respected Hollywood talent manager, Susan Curtis. Sam's parents initially balked but Sam begged for the opportunity. When, two weeks later, he took the microphone at his sister's bat mitzvah and began roasting his sister with the assurance and panache of a Vegas emcee, Sam's parents realized that Sam did indeed have the show biz gene and agreed to let him pursue it. His sister's bat mitzvah photographer snapped Sam's first headshot, Sam met with Susan Curtis and before long, Sam was alternating auditions with school, baseball, basketball and Hebrew School.
Sam's big break came four months later when Barry Levinson cast him in the movie, "Envy," which starred his favorite actors Ben Stiller and Jack Black and gave him a chance to work with Rachel Weisz and Amy Poehler. Soon after, Sam booked his first television pilot. Sam continued to work in television shows, movies, big and small, video games, and plays at his school and synagogue. Sam has been lucky enough to work with such producers as Steven Spielberg and Robert Zemeckis and for such directors as Brett Ratner and Gil Kenan. While playing Chowder in the movie, "Monster House," he struck up an enduring friendship with Mitchel Musso, his real life best friend. He also had the honor of voicing the character "Zak Saturday" in Jay Stephens' cartoon show, "The Secret Saturdays."
Sam has had the benefit of a live-in acting coach in the form of his father, Ken Lerner, who owns an acting school and has a flourishing career of his own. The two played each other in a Wells Fargo television commercial.
Sam recently completed filming the low budget movie "Nobody Walks."