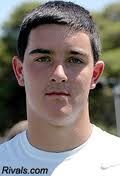 Chad Dashnaw is an american actor and athlete. He plays Dave Donsky in Suburgatory.
He is an athlete and does acting for side business. He lives in Harbor City, California, and plays for California. He is 6'4 and weighs 220 pounds.
Ad blocker interference detected!
Wikia is a free-to-use site that makes money from advertising. We have a modified experience for viewers using ad blockers

Wikia is not accessible if you've made further modifications. Remove the custom ad blocker rule(s) and the page will load as expected.